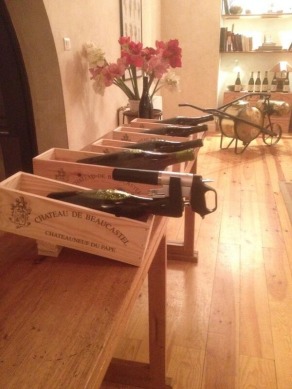 (This post was written by Guillaume Jourdan)
I was on my Twitter account yesterday and suddenly I discovered a tweet from @Beaucastel: "Getting serious with @Coravin with @vinography". This message came with the image that shows some old bottles of Chateau de Beaucastel served with the Coravin system. Finally technology meets tradition and this mage is for me what makes the wine industry even more exciting in 2014.
Over the last 20 years, innovations such as screwcaps were all first embraced by the wine estates based in the new world. Articles, images, coneferences…Winemakers from the new world were saying how great it was to embrace new technologies in order to make greater wines and to be in line with customers' expectations. For so many years I have been told that Europe was late to adopt new technologies and that it would be at their disadvantage over the long term. With Coravin's major technological breakthrough, an innovative disruption shakes the world of fine wines. World renowned wine expert Robert Parker has called Coravin "the most transformational and exciting new product for wine lovers that has been developed or invented in the last 30-plus years." Parker, who is largely considered one of the world's leading authorities on wine, recently posted a series of videos about the Coravin System.
So I was really surprised to see a famous chateau showing its wines with this new system. We would have expected a great Napa wine estate to do it in the first place but finally it is one of the most prestigious wine from the old world. More and more wine estates will certainly use this new system. Vega Sicilia, Ornellaia, Chateau Latour, Lafite Rothschild and many others may follow the route opened up by Famille Perrin. Coravin is perfectly adapted to luxury wines as it offers a unique opportunity to open new vintages without damaging the rest of the bottle that could be left after a tasting and old vintages as well. In 2013, Chateau Mouton Rothschild might have been reluctant to open a full bottle of their 1945 vintage. In 2014, they could serve it by the glass during your next visit. Cheers and Merci Coravin!
(To reach the writer, please send your message to info@vitabella.fr)