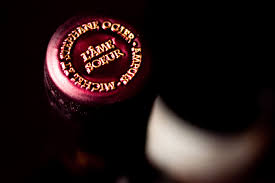 When lovers think of Valentine's day, most of the time the same word comes to their mind: Champagne. For this 2014 edition, Valentine's day can be celebrated with a new champagne rosé from Henri Giraud, Fût de Chêne MV Rosé. Craftsmanship and Luxury become again syonymous with Champagne. The "Partridge eye" color enhances a natural allure of mature wine, and the chalk notes typical from Ay blend subtly with red fruit and mandarin orange notes. Its salinity and elegant bitterness evoke a Grand Vin de Champagne, while a little hint of smoked meat gives it a distinctive character, unrivaled in the Champagne region. Reflecting both land and sea, this exceptional cuvée had to be adorned with an elegant jewel: an agrafe in pink gold engraved like an eternity ring in the Ateliers of Henri Giraud. And on February 14th, the first bottles of Fût de Chêne MV ROSÉ have a date with the lovers of intense emotions. Bottles will be served — after transportation via drone — at 2,200 meters altitude, as world premiere at the highest Champagne bar in the world, in Les Ruinettes-Verbier in Switzerland.
Rosé is definitely the colour of Valentine's day. Some lucky lovers – I mean those who have bought online last week the new vintage of the Best Rosé wine in the world – will have a unique experience. In fact, Jane Anson from Decanter had the chance to taste Brangelina's Miraval Rosé 2013 and commented : «This second vintage with the Perrin Family is confident from the off – no need to hawk for customers with an overly seductive blush, this is all about pale, barely-there pinks, charmingly pretty in colour. Lovely floral nose, soft fragrant roses, and from the first taste there is a delicate structure that deepens through the palate. The fruit is on the fresh summer red spectrum – redcurrants, rosehips, a dash of lime zest and wild raspberries rather than the sweet cherries of some rosés, with a savoury herbal edge. But, as the French would say *'il y a du vin'* – meaning that there is a sense of power alongside the elegance, a structure and a fresh acidity that gives the wine persistency, with a grip of minerality that gives a delicious mouthwatering finish. Already in 2012 there was a feeling of restraint and pared down elegance that hadn't been apparent before. The 2013 takes that even further and for me is a truly successful wine.» So to all those lucky lovers, we wish a Happy MiraValentine's day!
But do you know exactly about the true story of the Valentine's day? If not, you should get back to the legend of St. Valentine and share a glass of Marius by Michel Chapoutier wine on Valentine's day. The Legend of St. Valentine and his good Friend St. Marius may help to understand. This legend began in Rome, when the Emperor, Claudius II, was involved in many bloody and unpopular campaigns. "Claudius the Cruel" as he was called, was having a difficult time getting soldiers to join his military leagues. He believed that the reason was that Roman men did not want to leave their loves or families. So, he cancelled all marriages and engagements in Rome! The good Saint Valentine, who was a priest in Rome, in the year 269 A.D., together with his friend Saint Marius, defied Claudius and continued to perform marriages for young lovers in secret. When Valentine's actions were discovered, he was sentenced to be beaten to death with clubs and to have his head cut off. But while in prison, it is believed that Valentine fell in love with a young girl, who may have been his jailor's daughter, who visited him during his confinement. Before his death on the 14th day of February, it is alleged that he wrote her a letter, which he signed " From your Valentine" In 496 A.D., Pope Gelasius set aside February 14 to honor St. Valentine. Vive Marius and vive Valentine's day!
Finally if you want to send a strong message to your lover, go for "L'Ame Soeur" from Domaine Stéphane Ogier. This wine estate is famous for making Cote Rotie and Condrieu and L'Ame Soeur (which means "The Perfect Match" in French) gets great scores and great reviews from wine experts. As Robert Parker wrote, "The Syrah l'Ame Soeur Vin de Pays is a must purchase – if you can find any of the 8,000 bottles produced…this vin de pays is a dead-ringer for Guigal's La Mouline. An astonishing bouquet of spring flowers, forest floor, blackberries, kirsch, coffee and spice box soars from the glass of this incredibly perfumed wine. Made from 100% destemmed fruit, it is opulent, full-bodied, and must be tasted to be believed." So good that we would recommend to drink only if you are sure he – or she – is "the perfect match".
(Write a message to info@vitabella.fr)