The death of Catherine Péré Vergé will sadden fine wine fans in France, in Argentina and all over the world.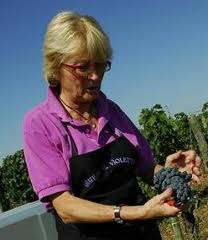 The death of Catherine Péré Vergé will sadden fine wine fans. In France, in Argentina and all over the world. Not only did Catherine Péré Vergé love her châteaux in Pomerol including Le Gay, Montviel and La Violette - the smallest estate in Pomerol appellation - but she also loved Argentina where she owned Bodega Monteviejo: "
Malbec wines bring sunshine in a glass, with an excellent maturity and an abundant fruit. On gravel and clay soils, these wines can show a long ageing potential as it is regularly proved by our best wines.
"Robert Parker recently gave 100 points to La Violette and 99 points to Le Gay for the 2010 vintage.
During a beautiful lunch Catherine organized in Paris two years ago - accompanied by Michel Rolland, consultant, and Marcello Peretti, winemaker - she told us about the story of Chateau La Violette:
" It was a beautiful night in June 2006 at Vinexpo Hong Kong, more than 12,000 km from Pomerol, when I signed the contract for the acquisition of Chateau la Violette. It is now five years ago. This small vineyard got this name from its original and exquisite perfume of violets, which historically has seduced the most discerning palates. It is located on the plateau of Pomerol, between Chateau Le Pin and Trotanoy. It covers 3 hectares but the wine only comes from 1.8 hectare."
"I took the responsibility, selfishly, personally; I analyzed it, I scrutinized everything, I wanted to know everything, I wanted to do everything myself: to understand in fact. From July until harvest, there is no place left for chance. But I know wine business does not only depend on know-how. The soil, sun, rain, weather conditions come into play. I often compare winemaking to mountaineering. We climb each step as a team. From the owner to the person in charge of the vineyards, workers, winemakers, we all must always stay together, stay in touch in case there is a human or a natural failure. In an attempt to reach the summit. As the result of all these efforts and of all these talents together, La Violette is a great wine. A wine made for pleasure."
Today our thoughts are with her family.
(You can reach the writer at info@vitabella.fr)